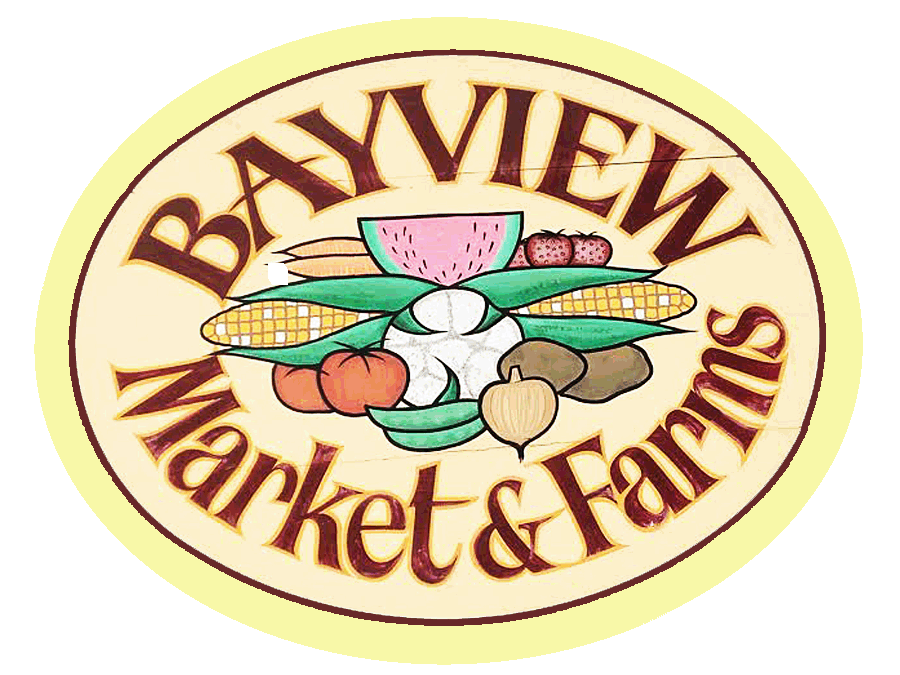 SHOP LOCAL
EAT FRESH
Bayview Market & Farms is proud to bring our local-area customers in Riverhead, Calverton, Laurel, and Mattituck, NY fresh fruit and vegetables all year round. We know that fresh, locally grown fruits and veggies not only taste better, they're better for you! It's why we work hard throughout the seasons to bring you locally grown produce that meets our high-quality standards. From asparagus in the spring to cauliflower and squash in the fall, we invite you to stop by and select your favorites.
We even offer fresh-cut sunflowers, some proteins, like fresh duck, and desserts including homemade pies.
Most of our Specialty Items, are available throughout the three seasons.
​
​
We offer both retail and specials on select produce to local residents.
​
Your fruit and veggie market proudly offering produce and
to the following areas:
Aquebogue, NY | Riverhead, NY Calverton, NY | Baiting Hollow, NY
Northville, NY | Jamesport, NY
Southold, NY | Mattituck, NY
Laurel, NY
​
ENJOY THE BOUNTY OF A LOCAL HARVEST
​Why go to the grocery store for produce when you can get it right from the source? Our farm market brings you the freshest options
in fruits and vegetables, grown right here in Riverhead, NY.
​
Discover the freshness, flavor and healthy appeal of locally grown fruits
and vegetables, roasted corn, fresh pies, duck, and much more! We promise you'll never go back to supermarket produce ever again. Instead, you'll come to Bayview Market & Farms, ready to bring home local fruits and veggies that belong on your dinner table.
​
Our local produce market is open from late spring through fall and into the early winter.
Questions on our local products? Contact us today at 631-722-3077.
​
Members of the New York State
Food Safety Program and
Long Island Farm Bureau
​
​
WHAT'S IN SEASON RIGHT NOW?
Aquebogue, NY is a four-seasons area, which means different growth seasons for different local fruits and vegetables. While we stock many delicious options all year round, some items are subject to the season. If you're in the market for something in particular and are having a hard time finding it, it might be out of season. Check it against this list of fruits and vegetables, and their prime growing seasons. Sometimes mother nature has different plans, making these dates subject to change, please reach out to us if you are looking for specific locally grown produce.
Apples (September - December)

Arugula (May - October)

Asparagus (April - June)

Basil ~ May - September)

Beets (June - December)

Blueberries (July - August)

Broccoli (June - December)

Broccoli Rabe (August - November)

Brussel Sprouts (September - December)

Cabbage (June - November)

Cantaloupes (July - October)

Carrots (June - October)

Cauliflower (August - December)

Celery (August - October

Chard (Swiss Chard) (May - June)

Cherries (July)

Corn (July - October)

Cucumbers (July - October)

Eggplant (July - October)

Fava Beans (May - June)

Fennel (October - November)

Garlic (June)

Grapes (Concord) (September)

Green Onions (May - September)

Kale (June - November)

Herbs (Bunched) (May - September)

Leeks (April - June & August - December)

Lettuce (May - October)

Melons (May - September)

Parsnips (October-December)

Peaches (August - November)

Pears (August - November)

Peas (June - July)

Peppers (July - October)

Plums (August - September)

Potatoes (July - December)

Pumpkins (September - December)

Radicchio (September - October)

Radishes (May - September)

Raspberries (July - September)

Rhubarb (May - June)

Rutabagas (September - December)

Scallion (May - September)

Spinach (April - June & October - November)

Squash (Zucchini) (July - September)

Strawberries (June)

Tomatoes (July - October)

Turnips (September - December)

Watermelon (July - October)